SchellVac is specialized in fabricating Vacuum Trucks for the wastewater management and hydro excavation industry. SchellVac is recognized for the ability to build vacuum trucks and hydrovacs for almost any application. From high-end electrical components and lighting to signature aluminum fenders, they build trucks for performance. Led by Brothers Alexander and Sergej Scheller, it's not just a company seal on every shipment that leaves the plant, it's the reputation of their family.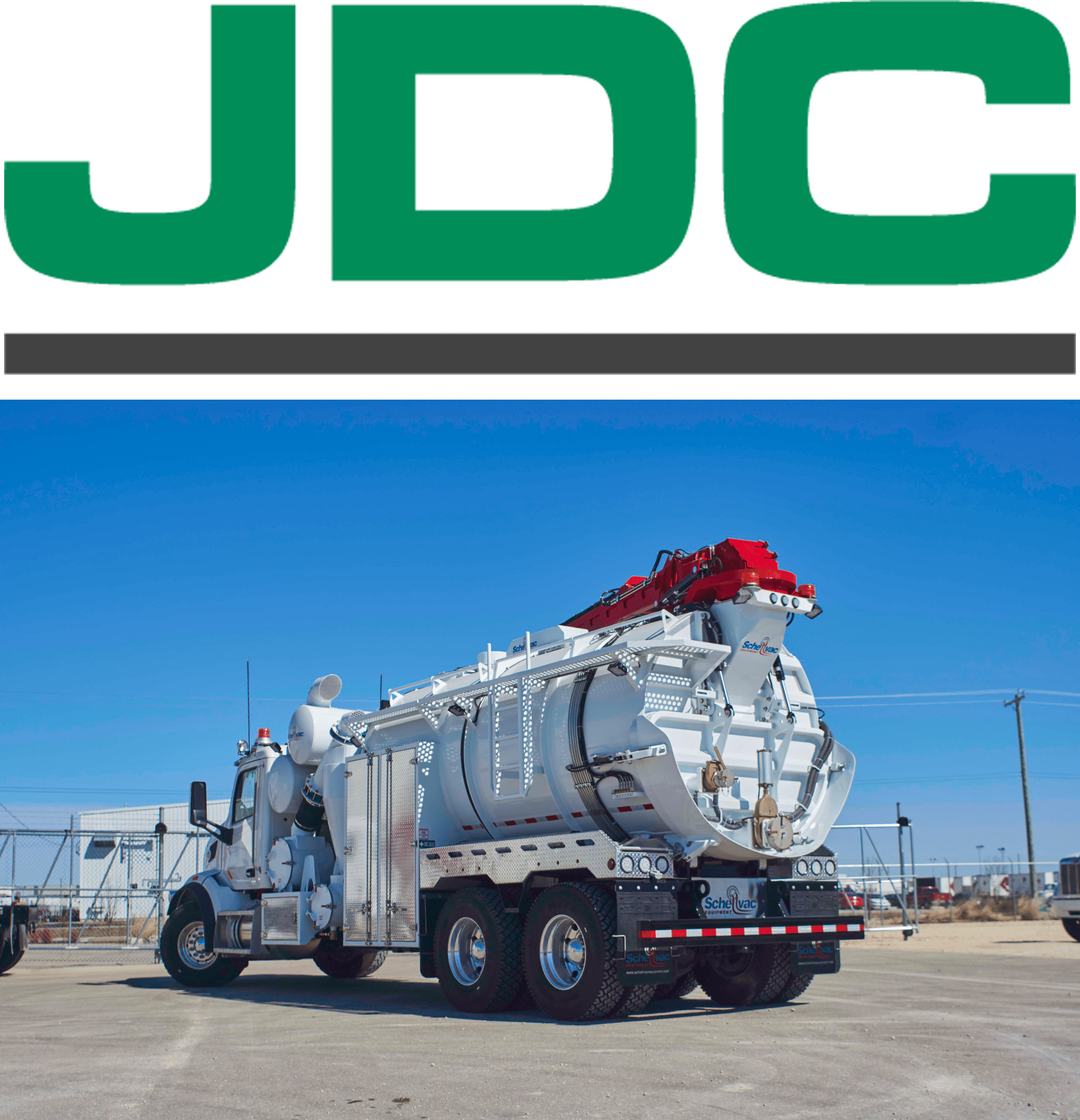 Hoisted 11-Cubic Yard Debris Body
Primary Shut-off Complete w/ 10-inch Stainless Float Ball & Stainless Cage Assembly
High Capacity Aluminum Cyclone Assembly w/ 17-inch Bottom Clean-Out and 2-inch Brass Drain Valve
6-inch Heated Discharge Assembly Complete w/ 6-inch Air Operated Stem Valve, w/ 6-inch Cam-Lock Coupler & Dust Cap
Heated 4-inch Rear Fill Assembly Complete w/ 4-inch Air Operated Piston Valve, 4-inch Cam-Lock Coupler & Dust Cap
8-inch Vacuum Relief Valve Operated by an Air Valve w/ Switch Located at Operator Station and on the Remote Control
TELESCOPIC BOOM:
Remote Controlled 8-inch Telescopic Boom w/ 23-feet of Reach, 320 Degree Rotation, 20-Degree Down Tilt, 60-Degree Up Tilt
Manual Boom Control Override at Operator Station
12-inch Boom Swivel with Clean-Out
ALUMINUM HEATED WATER STORAGE TANK:
1000-Gallon Fresh Water Capacity
Heated Water Tank w/ Internal Tubing Heated Off Chassis Coolant System
Electronic Load Level Indicator
Tank to Pump Suction Shut-Off Y-Type Strainer w/ Stainless Steel Filter Element
Easily Accessible Inspection Ports
Curb Side Fill Assembly
PRESSURE PUMP:
Interpump Pressure Pump (Maximum Capacity is 10 GPM @ 2900 PSI), Variable Speed
BOILER:
Dynablast, Steam or High-Pressure, 420,000 BTU, 7-Gallons @ 165 Degrees Fahrenheit Heat Rise (220 Degree's Fahrenheit Output)
Glycol System Winterization System
PD VACUUM BLOWER SYSTEM:
Rotary Lobe Positive Displacement Robuschi RBDV 125 (3800 CFM @ 28-inch Hg) Vacuum Blower Package
CONTROL SYSTEM:
System Control at Operator Station Located at Curbside of Unit
Remote Control to Have Following Functions: Boom Control Up-Down, Left-Right, Pressure Pump On/Off, Vacuum Relief On/Off
With decades of experience, Schellvac has the expertise when it comes to premium hydrovac equipment. Schellvac has continously crafted the best there is to offer. And JDC has made a commitment to suppling just that for our customers. With 15 locations across the U.S. and Canada, JDC is there when you need us. Contact JDC regarding our available Schellvac hydrovac equipment today.